CES 2014 Part II: Innovation & Cool, Trendy Gadgets
Product & Trend Spotlights: 

Imagine images so vivid and clear that it'll feel like your TV experience has come to life. Then, imagine an interactive car that keeps you connected on the go. These innovations aren't as far into the future as we think – introducing 4K TVs and interconnected automobiles. Keep reading to check out these cool, trendy gadgets from CES.
Toyota FV2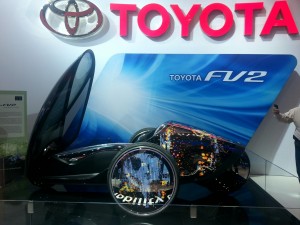 This concept car of the future is connecting the driver with the car in body and mind. Not only does this car steer depending on the balance of the driver, but it also learns from the driver's actions so that the car "learns" how to be more intuitive for its driver. Interconnecting people with their cars is the way of the future!
Audi R8 Quattro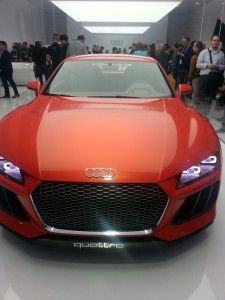 Audi has upgraded its headlights again, this time with laser beams. Yes, laser beams! The Audi R8 Quattro is a sporty car with laser headlights that can reach 1,640 feet (a third of a mile), which is twice as far as LED headlamps, and three times the brightness.  Talk about a bright idea!
4K TVs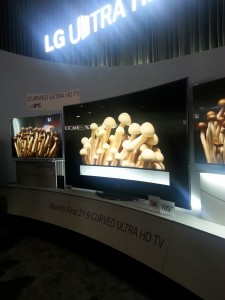 LG curved
This 77" TV has a curved screen based on organic light emitting diode (OLED) technology, which produces brighter, sharper and more vibrant pictures than LCD displays. These TVs have four times the number of pixels than regular HD TV screens, with a brilliant 3,840 by 2,160 pixels resolution.
Sony 4K Wedge-shaped TV & SmartEye Glass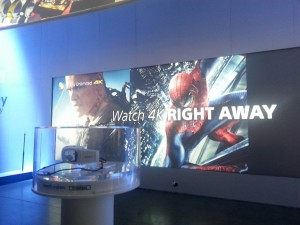 Sony has integrated social media with TV viewing through a new wedge-shaped 4K TV and SmartEye Glass, which displays social media updates and additional information all within a viewer's line of eyesight – you never need to look away from your TV screen! Sony's new wedge-shaped 4K TV produces larger, richer volume and sound so that your viewing experience is enhanced further.
 Panasonic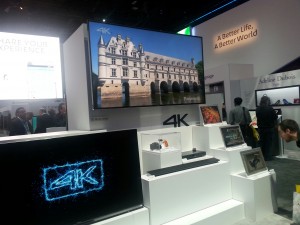 Panasonic showcased its 4K LED TV at CES 2014, which boasts an equal display as the amazing plasma TV from past years. The local-dimming technology is said to be great with this new prototype.
Samsung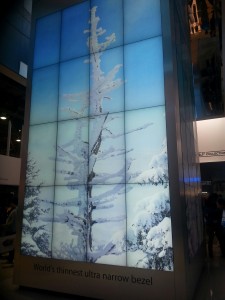 The title of producing the thinnest bezel separation display is going to Samsung. The company showcased the "world's thinnest ultra narrow bezel" at CES, with a wall-mounted TV.
All photos by Ivo Lukas & 24Notion at #CES2014
Related posts