CES 2014: Up Close and Personal with Brand ambassadors, Maria Menonous – entertainment matters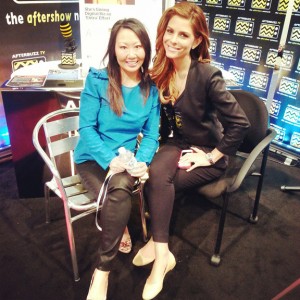 Humble, friendly, personable, beautiful and a successful entrepreneur, Maria Menounos has it all! She has proven that she can be an expert in all fields of the entertainment industry. I was honored to have a chance to sit down with Maria during #CES2014 Entertainment Matters to learn more about her life in the fast lane as a top TV personality.
Entertainment Matters operates under CES and is dedicated to all things film, TV, and digital communities. The Entertainment Matters Ambassador unites entertainment with technology through thought leadership, trendsetting and being passionate about the industry. Menounos acted as Ambassador through building relationships with the leaders of digital content creation and bringing to the public the latest trends and news. She is the host of "Extra" at Universal Studios Hollywood and the popular "Conversations with Maria Menounos," a digital talk series covering the latest and greatest in digital entertainment. Her other accomplishments include being the CEO of the AfterBuzz TV network, starring in television and film roles, and even producing independent films. Needless to say, she's one busy woman! Her love of bringing technology to the entertainment world really shines through in her work as Ambassador.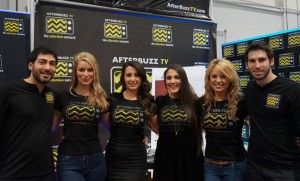 "I'm really having a fun time here as a brand ambassador for Entertainment Matters at CES," Menounos said. Maria has much expertise to bring to the CES community, as she has developed a strong following in digital broadcasting that bridges entertainment and technology. "I've had success in launching a digital platform. From online conversations with my followers to AfterBuzz TV, we've had success in launching a few the digital platforms…[this made me] a good candidate for the CES Entertainment Matters Ambassador."
"We cover over 50 hours [of entertainment features] per week with over 200 hosts," said Menounos of her job as Ambassador at CES. "It's hard, and I'm still learning how to juggle [work and life], but I'm figuring it out. I've learned a lot over the past years." Menounos has had plenty of experience balancing her work and other life commitments, and she shared some of her expertise in The EveryGirl's Guide to Life. "Every year, I keep growing to get better and better. What worked last year might not work next year, so I keep going [to improve].
This year, Maria wants you to join her in empowering yourself as she launches a new book and reality TV show. On juggling work, diet, and fitness, Menounos said that it's difficult "to juggle and balance them all out, but I've learned that it's one day at a time." Her upcoming book published by Random House, The EveryGirl's Guide to Diet and Fitness, is slated to be released in April 2014. You can pre-order it now on Amazon. Maria's TV series, "Chasing Maria Menounos," premieres on March 18th on Oxygen at 10/9c. The docu-series will follow Menounos to reveal how she expertly navigates her busy lifestyle in a traditional Greek family, as a host of Extra and special events like being Entertainment Matters Ambassador at CES. After meeting her, I can say that Maria's expertise definitely makes her an influential player in the tech and entertainment world.
more photos, follow ivo's instagram 
Related posts