CES 2014: Up Close and Personal with 50 Cent on SMS Audio
You couldn't get any more real with 50 Cent than I did at #CES2014!  I sat down with 50 to catch up on his involvement at SMS Audio and his new album.
50 Cent has conquered it all as a musician/rapper, an influential person in the music industry and an entrepreneur by heart.  He has sold over 30 million albums worldwide to date. As the current CEO of SMS Audio, 50 is the real deal! He told me that he has been involved with SMS Audio since 2011 when he acquired the company. While several rappers have headphones named for them, 50 Cent personally helped engineer the "SYNC" and "STREET" lines of SMS Audio headphones.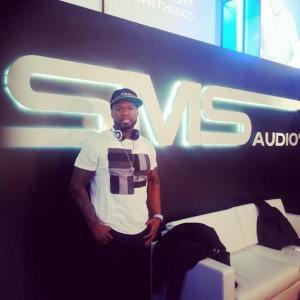 "SMS Audio is about quality. That's really what sets them apart…" said 50. He wants his followers and consumers to know that they're getting the highest quality products when they use SMS Audio headphones. 50 Cent himself is involved in the testing and design of products, so you know that these products have the most true to sound audio capabilities.
He loves being the SMS Audio CEO. In his role, 50 works side by side with SMS Audio President, Brian Nohe.  "When it comes to his role as CEO of SMS Audio, 50 is involved in nearly every business decision – whether that means working with engineers to ensure product quality, clearing his schedule for a trade show, or traveling around the world to meet with retailers and partners," Nohe said. "SMS Audio blends 50's passion for both music and business. It's easy for him to extend his personal brand and artistry to the "STREET by 50" and "SYNC by 50" headphone collections."
50 admitted that he can't choose a fave pair of headphones(he loves them all) because it depends on your different music, recording, and listening situation. Plus, his headphones have to fit his lifestyle, day in and day out.  He knows this is true for any customer, which is why SMS Audio is constantly working on fresh ideas for new headphone lines to fit different personalities, such as their new limited edition Star Wars professionally tuned headphones.
SMS Audio has already seen celebrities signed for the brand, with producer/rapper Timbaland being the first. Now, Carmelo Anthony of the New York Knicks will also serve as a brand ambassador for SMS Audio Worldwide, which includes the "SYNC by 50" and "STREET by 50" wired and wireless headphone lines.
SMS Audio is a global audio headphone and accessories brand dedicated to improving the way people experience music by combining technology, function and style to bring a superior level of sound, comfort and fashion to every product. SMS Audio delivers professional, studio-quality music experiences with its full range of premium headphones – including the "STREET by 50" and "SYNC by 50" – earbuds, and accessories designed to meet the needs of various consumer lifestyles. Keep your eyes open for new products, which the brand plans to release throughout 2014.
If you need another reason to love SMS Audio, the company is also big in philanthropy as they've partnered with Feeding America, our nation's leading domestic hunger relief charity.
In its partnership with Feeding America, each U.S. sale of SMS Audio products – either in-store or online at www.SMSAudio.com – will help Feeding America provide one million meals annually to food insecure families throughout the United States. This brand does it all – quality, innovation, style, and giving back to the community!
All SMS Audio products are available at www.SMSAudio.com. For more information about SMS Audio, visit www.SMSAudio.com.
50 has a new album coming out in 2014 called Animal Ambition 
Photos credit: Ivo Lukas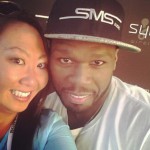 Related posts